New Studio Tour: Part 1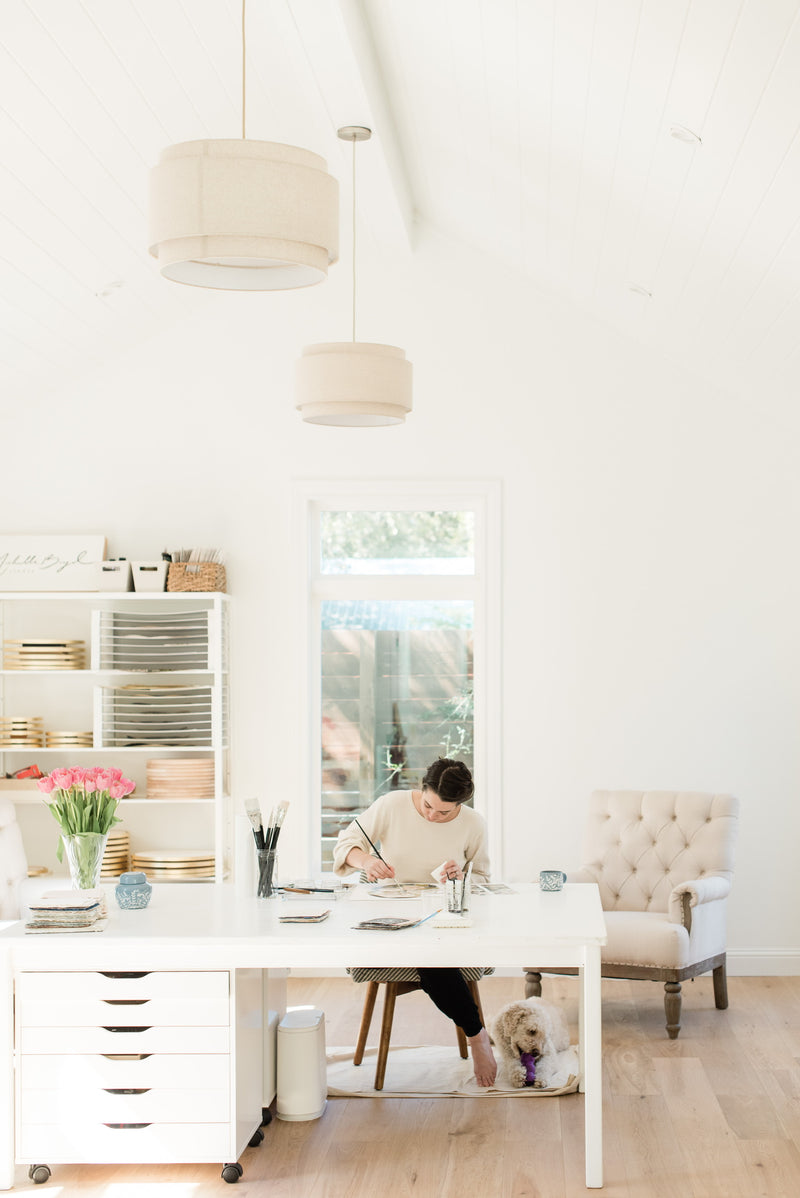 All my life, whenever I've envisioned my future home, the first image in my head is an easel in the corner surrounded by windows. This was before I knew where I'd be today, before I knew that the winding road would lead me, eventually, here, where I am a full time artist. Just around one month ago, I moved into my new art studio. The process to get here has taken years. It began as only a hypothetical dream, especially since I'd really just started my career as an artist in 2017. I truly never imagined that my business would grow at such a rate that I wouldn't just want a bigger space, but I'd truly need it. All glory to God!
Before we share all about the process, this paragraph is for my artist friends & followers. Let me tell you this one thing: You do not need the newest space, the biggest space, or even the cleanest space to make magic. I know many artists who spend years in their kitchen corner or unfinished basement making the most magical of creations! Your worth, value, and ability is not marked by how visually appealing or "shareable" your space is. Create what you love, everyday, over and over and over, and if you need to expand your space eventually, then praise the Lord for that! 
That is very much my story. I began painting in the corner of a tiny apartment, and then have since been in a small spare room of the home we purchased in 2016. We knew we wanted to create some kind of studio space, and to expand how we utilized our house the best. Our little 1940's cottage had a detached garage, which we initially simply wanted to renovate to be the studio. However, as we continued to plan and weigh all our options, these are the points we discovered: 
The garage would need a LOT of work, and it would already be quite the expensive job. Due to the way it was constructed, the ceilings would have to be quite low, and we had so many issues with it flooding in the past, which gave us cause to worry for the future.

We also wanted to add a laundry room to our house, as our laundry was a stacked unit in a tiny hallway closet. 

Connecting the house, via a new laundry room, to the existing garage, was our next thought, to increase the square footage and eventual resale value of the house. However, due to setback codes in Austin, this was not possible as the garage was too close to the property line. 
All these things led us to the ultimate decision to demo the garage, start fresh, and add on as much square footage as our impervious coverage would allow! We decided that, although this was the much-much-much-more expensive route, we would receive a greater return for our investment in the long run AND get to design exactly what we dreamed of. 
We worked with THE most amazing architect ever, Chelsea Scharbach of Scharbach Workshop, on the layout and design of the new space. Her vision for how everything would flow and fit together went beyond my wildest dreams! She was also wildly helpful and wise with navigating all of Austin's building codes. Had I had to figure those out myself, this project never would have taken off. Our contractor was Shawn Hohnstreiter of Hohnstreiter Construction, and I thank my lucky stars that he got us into his incredibly full schedule! He was a DREAM to work with, and always had everything scheduled out and finished perfectly. 
At the very beginning, we had a couple of setbacks with gaining permits from the city. We had to change our plans a bit, but once we got it all figured out, the ball began rolling smoothly. From demo day to move in, the project took just about 5 months to complete. (Fast, I know! Shawn's crews were AMAZING.) 
We added beadboard to the laundry room (we call it the breezeway, as it's become a laundry room / breakfast nook / mudroom / playroom), and beadboard to the ceiling of the studio, to carry that character throughout the home. We also chose wooden doors instead of vinyl or fiberglass, to match the feel of what we currently had. While we did choose picture windows for the new addition, they've all been dressed up with traditional floor to ceiling white curtains, providing amazing natural light for the studio.
One of my favorite details was painting the exterior of the French doors "Aleutian" by Sherwin Williams. As a girl who lives in neutrals, I had my moments of cold feet- but I'm SO glad we did it. I spent so long trying to find the perfect shade of French blue, and I love that it's not quite baby blue, not quite grey, and not too on the lavender side. It brings me right back to Provence in the summer. 
There's still so much yet to do- my dad has built an INCREDIBLE white oak table to house a huge farmhouse sink, which will be installed as soon as I can decide on a stain for it 🤗 I also plan to create a large lay-flat drying rack, and will be installing floating shelves for all those gorgeous new collection photo shoots. 
This has been such a huge year of growth for my artistry, my business, and now our physical home space! I never imagined that this space would become real. I still enter the new space everyday in disbelief that I don't have to spread everything out over my kitchen, dining, and living room tables anymore! (And the cherry on top is we've finally converted the old studio room into a proper guest room / playroom, and it's become our favorite room in the house.) 
Thank you to everyone who has enjoyed watching the process of this new studio build take place! It's already been such a huge source of inspiration for me, and I hope it will be for you too. 
My next dream? Plant as many garden roses as I can around our entire home! Let's see if I can grow my own florals for inspiration 😉 
Photography- Madeline Harper Photography
Table- custom made by a friend
Drawers - IKEA Alex drawers
Curtains - IKEA Lenda curtains 
Floors - Provenza old world, aged alabaster (engineered hardwood) 
Linen Pendants - Crate & Barrel 
Window pendant - custom by MaryFrances Carter
Chairs - thrifted 
Greige cabinet - family heirloom / antique 
Rug - Hook & Loom