The Start of My Painting Story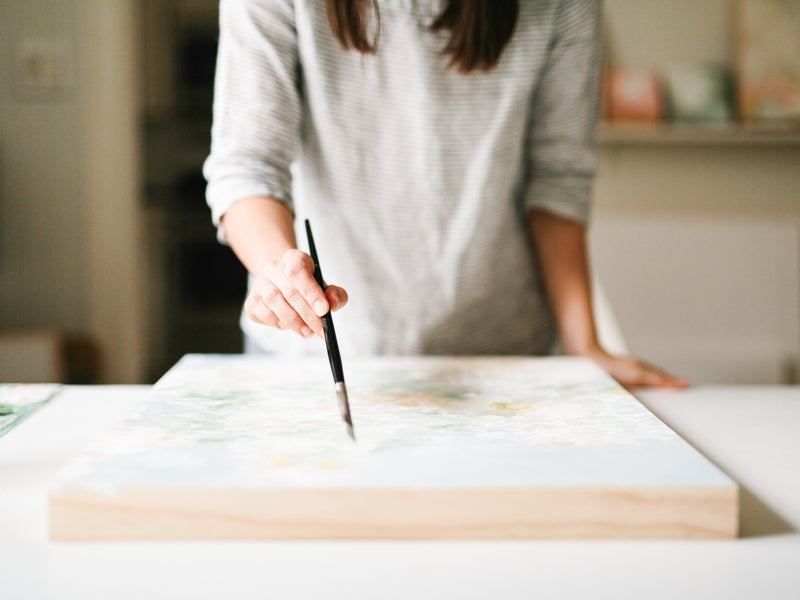 I do not consider myself a writer, nor a wordsmith. For all my years as an English major and avid reader (mostly fiction, don't get too intimidated), there's something about putting words to paper that I generally abhor. However, this is a new season for me- one of growth and learning and change, and I've found myself wanting to share my experience with you. So this is me, leaning out of my comfort zone and *gasp* starting a blog. 
I want to share the beginning of my painting story with you.
The past year has gone by SO unbelievably fast and I haven't really been able to process or share what this transition has meant for me. 
For the past 7+ years, I was a wedding photographer. I ate, slept, and breathed everything wedding related: my beautiful clients, shooting on medium format film, styled shoots, vendor networking, booking events, planning timelines... the whole shebang. I loved EVERY single second of it. I loved the creative process, I loved the thrill of a wedding day, the sanctity of vows, and I loved the marriage of light and movement and sweet details galore. I was blessed with the sweetest clients and most fabulous artist and supplier relationships over the years, and was so proud of how my business grew. 
Now for the past 28+ years, I have been an artist. Every kind of crayon, colored pencil, watercolor, paint, you name it- I've experimented with it. It has always been a hobby, something I would really embrace for seasons or years of my life, or would just briefly run to for handmade birthday or Christmas gifts. And then in the back of my mind, ever since I was very little, when I would picture my future house in my thoughts, there it was, clear as day: an easel by the window, perfectly at home with my well-used paint brushes and (dying) house plants. I always thought that little piece of my imagining was just a fluke, a pipe dream, and that it was a silly thought that kept returning.
Thanks to my Grannie Anna, who enrolled me in summer painting classes as a child, I knew I loved oil paints. (Yes, my Grannie is an amazing woman who trusted her 10ish-year-old granddaughter with expensive, messy oils! Bless her.) A couple of years ago, I started leaning into painting more and more. I began taking classes at a local art school, experimenting with different styles and teachers, but all in acrylics, since our current apartment A- did not have great ventilation, and B- had absolutely no storage space for paintings I knew could take months to dry. Plus, there was the initial investment for oil paints. Yikes! I continued to explore, paint, and fight with almost everything I created in acrylics. 
And then, in January of 2017, we bought our first house. We moved and suddenly I was able to dive into oil painting- my sweet husband Bryan bought me my first collection of paints and solvents. (Bryan, if anything, has always been my most amazing encourager and enabler when it comes to chasing my dreams. I love him. That's a whole other post for a whole other day!) We set up one of the bedrooms in the house as a studio, and I began to play… 
And that's when it started to hit me. I absolutely loved my wedding photography career. It was successful, I was traveling to incredible places to serve my clients (hello Paris!!), everything was systematized…
...and yet.
And yet every time I sat down to paint, my shoulders would relax. My husband would come home and ask, "Who is this flirty person? What have you done with my wife?!" The stresses and worries of wedding logistics stopped running through my head as I tried to fall asleep at night, and was replaced instead by visions of what I wanted to paint next and color palettes I wanted to explore.
Y'all let me tell you: it was one of the hardest decisions I've ever had to make. My closest friends and family will attest to how much my heart felt broken and confused after building a business that had fueled my creative soul (and a good portion of our savings) for years. Above all, my deepest fear was that I was betraying my amazing wedding clients. But after much, MUCH prayer and seeking really wise counsel, I knew that the time had come to start making the transition. I had a close friend tell me that sometimes in order for the harvest to grow, whatever was there before needs to die in order to make room - and that death can make the soil even richer than before!  Once I knew what I had to do, my heart felt so much lighter.
So for about the past year, we took baby steps. I stopped accepting future weddings, and then knew with my last 2018 wedding I would be done with that portion of my photography business. I leaned into oil painting with a fervor and passion I never thought possible. I painted as much as I possibly could. After attending the French Willow Gathering last May, I finally felt the freedom to make my painting journey public. 
Pieces from my first couple of collections! 
I have felt incredibly grateful for the responses I've received for my painting work. I've learned so much about the art industry, and how vastly it differs from the wedding industry in so many ways, while still maintaining so many similarities! I've majorly flopped in areas, I've been overwhelmed by amazing and daunting opportunities, I've stared at my brushes thinking, "what on earth am I doing?" I've cried practically every time a painting goes home with a new owner. This does not feel like real life! And yet again, I'm exceedingly grateful.
Frankly, part of me is shocked that I've put this whole saga "out there"! So why do I share all this? Over the past few months I've had multiple conversations about this transition, and one of the biggest things I simply HAVE to share is this:
It's OK to move on. It's OK for your dreams and passions to change, and to step into the unknown. It's also OK to admit that *something* needs to change.
I consider myself a very strong, capable, and brave woman, and there was never a wedding or event I felt ill-equipped to handle, or one that I was unexcited about. However, I finally admitted that I needed to move towards a career with lower stakes than wedding photography. And that, my dear friends, is OK! 
There may be formulas for building life-long businesses that fuel you until your last breath, but I'm embracing change. I look back at the past 18 months and can't help but be amazed at what a difference this transition has brought to our lives. If you're a past wedding client: THANK YOU!!! From the bottom of my heart, it was my sincerest pleasure to tell your story and to walk with you through such an incredible season of your lives! 
And to you, reader: Thank you for sticking with me through this long saga, and for supporting this new, exciting, and altogether terrifying journey of mine. I'm grateful you're here and am excited for what the next few years will bring! 
First Studio Photograph by Katie Jameson for the Made With Love Journal  |  Last Studio Photograph by Madeline Harper Photography