Rather Than Capturing, I Get to Create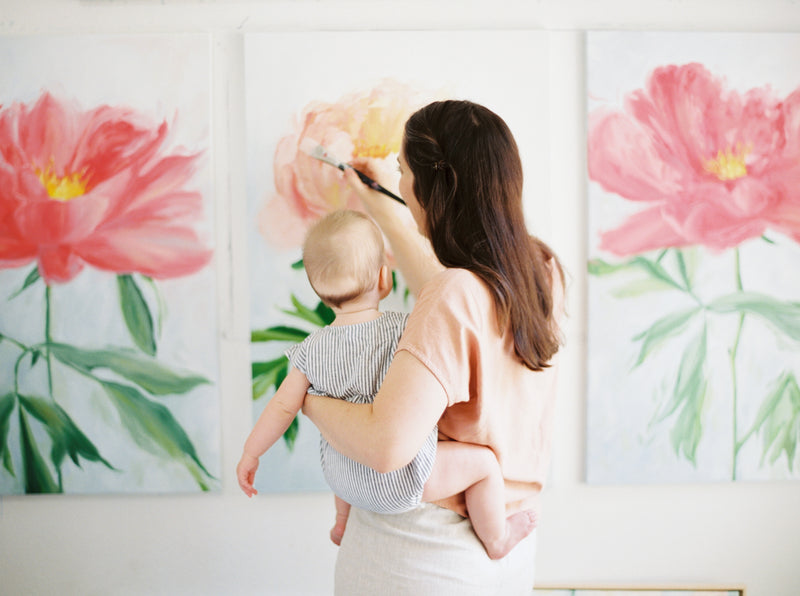 As some of you may know before I opened my painting business, I was a fine art wedding photographer for almost 8 years. I had the joy of capturing gorgeous wedding days and life transitions on a film camera that quickly became my third arm. I get asked quite frequently if I miss photography and my answer quickly rolls off my tongue, "nope!" While I deeply loved my photography business, painting has changed my life in a sweet way that I couldn't have imagined.
For a long time I've been ready to be a part of a much calmer routine and artistry. When I envisioned my future life it was always at a much slower pace... I would be doing something I felt like I could organically grow in, taking my time to learn and dwell rather than feeling the clamor of moving quickly and staying up with trends of the event industry. I'm actually an introvert, so I loved the process of serving clients on a wedding day, but when I got home at night I'd be more than ready for a glass of wine and a looooong nap. Since I've opened Michelle Boyd Studio we've had a baby girl, so of course we've also transitioned into parenthood with all it's challenges and victories. Being able to have super slow days at home, days that are catered towards my sweet girls' growth, and also days that are filled with grace and tiny moments away from work, has been a gift. This flexibility has been a huge part of my natural growth into who I am as an artist, and has taught me to allow my day to day schedule to shift based on the season we are in. 
I spent years viewing people, places, and things through a camera lens. The transition to viewing those same moments through a paintbrush and palette, and translating onto a canvas, felt beyond natural. My love of film photography and it's soft, pastel, light-infused colors flowed right into a love of dreamy color palettes, soft blooms, and the interplay of light that you see in my current work. Photographing flowers at weddings was always one of my favorite moments, so it just seemed right to paint with them as my inspiration! The combination of blooms, textures, and colors that florists create will never cease to leave me in awe. 
Running a painting studio has surprised me with just how many things are similar to how I ran my photography business. I was able to take what I learned concerning client management and how to run a small business and simply apply it to a different medium. A lot of the day to day routines are the same- there are emails to be returned, websites to keep running, social media to post on... I still make weekly trips to the post office to ship goodies to my clients' doorsteps, but now it just happens to be paintings rather than photographic prints! 
On the other side of things, there are so many differences! In the painting path I'm choosing to pursue, painting is a much more self-directed and artistically driven job. In photography there were certain shots I of course wouldn't dream of missing at a wedding! To a certain extent, I was a documentarian, capturing the day as it was styled and planned. I was able to capture each day uniquely to fit the personalities it represented, but I was shooting an event set before me. I wasn't there to manipulate or fabricate shots, but to capture the beauty I saw and draw that out in an artistic way. In painting, however, I'm able to move and breathe and play in whatever capacity I feel that day.
Now it's just me in my studio... no moment to capture but all the possibilities to create.
Whatever I allow into my life as an inspiration can flow onto the canvas. There's more of a fluidity with a paintbrush and endless color combinations. (You can see that clearly in the generous transformation of my work since becoming a painter!)
  For me, I've found that painting doesn't follow trends as much as it follows personal seasons. 
Moving into a painting studio has also been a shift in the mindset of how and when I share work. In photography I would always share my work once it was finalized and edited with the bride, with vendors, with publications, and then finally with everyone! The work was always meant for a specific couple first and foremost. I now paint for the many and then they get to decide what they take home. The behind the scenes of photography isn't necessarily sexy [think of me running around on a wedding day and then sitting at my computer for hours on end]. But the fun part of painting is that others LOVE to see the behind the scenes takes.
With art the process is just as magical, if not more so, than the final product. I get to welcome you into creating alongside me. There is different appreciation for the process knowing that it is just as important as the final work. It's another reminder to slow down, to value and savor the season of creating. There's a different freedom in being able to share as I go rather than waiting as a final edited image that's on it's way to it's forever home. It's almost as though my community gets to step in an encourage as I paint, it allows more voices and inspiration to be a part of that final work. 
While getting to know my clients on an intimate level and the ability to tell such an important story for them was thrilling, the stakes of shooting a wedding day were always high. I wanted to deliver nothing but the absolute best reflection of their vision. Now I get to work with clients one on one on their commissions and there's so much freedom to paint that vision from scratch. Rather than capturing, I get to create. It's an intimate relationship, and I value their trust in me. I don't have to know them for simply their hopes for a day but rather I get to hear their hopes for an entire home. And that is one of the sweetest parts. In them allowing me to spend more time in my home in the ways that I always dreamed, I have the opportunity to step into their homes in a way that is honoring and beyond what I ever imagined. 
So thank you. To those who made this fledgling dream turn into a sweet reality, I thank you. This is beyond what I imagined for a life and I'm honored to share it with you.
Welcome to the process. 
With all my love,